Here are some genuine testimonials from our happy customers. If you would like to leave a testimonial, please click here.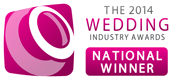 Click here to view  the client comments that made us National Winner, that have been officially supplied to us by The Wedding Industry Awards.
We found Richard through a wedding magazine and the minute we met him we knew we wanted him to make our wedding rings. He is so friendly, professional and extremely talented.
It was very interesting to watch our rings being made and the finished results were even better than we could have ever imagined. We are both over the moon with our rings and have had so many compliments.
We can't recommend Richard enough, he's a pleasure to deal with and is extremely talented. We will be back for Toni's eternity ring!!!!
Like many of us, I had some rings which I never wore for one reason or another and one which had sad memories for me, so I took the lot to Richard and said what can we do with this lot? He sat with me and we came up with some ideas and I am now wearing a ring I never, ever, thought I would be lucky enough to own, and a pendant pending. Delightful young man and delightful apprentice. Watching the ring being made was simply awesome. Thanks isn't enough.
THANK YOU SO MUCH Richard for saving my Engagement Ring which was squashed and stuck on my finger.
Within 35 minutes of me calling him Richard had removed my engagement ring (without cutting it), reshaped and polished it.
I can't thank you enough for your fast, amazing service.
Looking forward to designing and having my Wedding Ring made by you.
Thanks again, Lorna
My (now) wife and I first met Richard at a Wedding fair in Brighton where he was showcasing his work. There were several other ring designers at the event and we spoke to the majority of them. We opted to proceed with Richard due to the quality of his work, value for money, and his friendly and adaptable approach.
He seemed to be very passionate about his work.
We met up with Richard a few times to discuss designs and to see how things were progressing. Personally, I opted for an ad-hoc design, which Richard managed to create perfectly (I am very particular about how I like things, and Richard exceeded those expectations!)
We purchase two Wedding rings which both look great, and are still looking great over a year later. We subsequently purchased several Pearl necklaces and ear-rings as Wedding presents, and also a Pearl bracelet for my wife. All of the items are regularly worn by the receivers.
I would highly recommend meeting Richard and speaking to him about what designs and services he can offer. I have visited him subsequently to have our rings cleaned and polished – this was an offer Richard made us when we bought the items, and he has stuck to his word.
We are both very happy, and will be returning with further business in the future!
Thank you,
Danny and Joanne Jones.
Richard's passion for his work is undeniable, along with his talent and skill not only to make the most stunning, original rings but to communicate with us each step of the way. I was involved at each stage of the ring and was lucky enough to watch my rings being made. We had 100% confidence in Richard's ability to design and create the desired ring. I never thought jewellery could bring me to tears of joy or wow me into silence! We will only ever go to RTFJ for jewellery in the future.
After going to meet with Richard at RTFJ, we loved that he was personable, sincere and genuine and we felt we would get value for money along with top quality. His passion, guidance, flexibility and creative skill added to our choice. The experience of having engagement and wedding rings made was better than anyone else we know. A truly personal, original and very big wow experience.  My new husband is not easily impressed but we cannot recommend RTFJ highly enough! Fantastic and big thanks.
Last year, I consulted Richard about resetting a 2.15 carat diamond engagement ring, a 1.15 carat diamond necklace, plus an 11 carat diamond tennis bracelet. These pieces of jewellery had been gathering dust in my safe for over 10 years. I did not know exactly what I wanted with regards the ring, but I knew exactly what I didn't. I didn't want a ring that looked like an engagement ring!!
When I visited Richard at his workshop, he spent a great deal of time talking to me about what I had in mind, the style of jewellery I liked and when I would want to wear these pieces. To cut a long story short, he designed an individual setting  for me that is absolutely stunning (and looks nothing like an engagement ring!). He also designed a setting for the diamond necklace that suited the ring. Both pieces were reset in platinum.
The tennis bracelet was a little more complex. The cost to have it reset in platinum was prohibitive and so he suggested coating the gold in an platinum like substance that can be taken off and will not devalue the piece.
When I collected my jewellery, the results exceeded all expectations. Richard also valued the items for me and I had a more than pleasant surprise.
I have no hesitation urging you to take any jewellery you are not wearing for him to look at and having it reworked. He is a true craftsman.
My husband surprised me with an incredible ring for the birth of our first child and I was blown away by the craftsmanship, quality and design of the ring. We had requested a more industrial feel and design to the ring which was perfectly interpreted and our preferences honoured. It was a true pleasure to sit and watch my ring being finished off in the studio. From start to finish it was a true pleasure to deal with and work with rtfj. I am trilled and delighted with the end result and wear it with pride.
You could not hope to meet a nicer chap than Richard. He instantly put us at our ease, helping us to fine-tune our ideas for the design of our wedding rings. He is a very knowledgeable and talented craftsman and made the whole process very enjoyable with his professional and cheerful demeanour. The rings turned out even better than I had envisaged. A superb job … for a reasonable price too.
Richard redesigned my engagement and eternity rings to make one beautiful , modern ring for my 25th wedding anniversary. He was so helpful and professional that the process was easy and the result even better than I had hoped.