Here are some genuine testimonials from our happy customers. If you would like to leave a testimonial, please click here.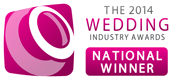 Click here to view  the client comments that made us National Winner, that have been officially supplied to us by The Wedding Industry Awards.
Richard put me totally at ease when I came to see him to discuss my requirements for a full eternity ring for my wedding anniversary. I was quite daunted about the process of getting a bespoke ring but Richard made everything seem easy and took the time to listen and discuss with me what I wanted – even going so far as to make me a mock up ring so that I could see what it would look like! He contacted me regularly to give me updates on progress and was always very friendly and welcoming when I visited him at his workshop. The result was a fantastic ring which fits beautifully in between my engagement and wedding rings. Richard promised that he would make me a ring that I would love and he certainly wasn't wrong! I would thoroughly recommend him to anyone thinking of buying a bespoke ring.
I went to Richard after a recommendation, and I believe that he has the best marketing platform, word of mouth, I know I'll be Recommending him to everyone I know. The most professional guy I have ever had the pleasure of meeting, an expert in all fields. Every question I threw at him ,he came back with the best answer anyone could have hoped for. Richard knows his stuff. As for myself, someone who doesn't know anything about Diamonds and jewellery, I now know a vast amount of helpful and useful information. I feel that his style of work, communication and honesty really makes him stand out from the other bespoke Jewellers and high street jewellers I met. Richard makes everything transparent and the whole experience feel comfortable and relaxed. The level of service that Richard provides is outstanding and it is a pleasure to be one of his clients. His after-sales service is also fantastic. Due my purchase being a surprise, we had to guess the finger size, and sadly the ring was slightly too large for my fiancé's finger. However, Richard was more than happy to resize it, and did a fantastic job doing it. My fiancé was excited about meeting him. Richard resized the ring while we waited. This is a decision I will never regret and will look forward to dealing with him again when it comes round to the wedding rings. Thank you once again.
We just wanted to say thank you for all of the time, care & effort you've put into making our rings. You've been warm, inviting,understanding and very generous with your time and effort; we're proud to be wearing your craftsmanship. We'll be back to see you soon.
Just wanted to say a huge thank you for making my beautiful wedding ring. My compliments to your work as it really is stunning & I am so happy with it! I appreciated your professionalism and welcoming working ethic & how individual you made both myself & James feel, as though my ring was the only one you were making. Our day was truly amazing, nothing could have gone better, & we just wanted to say a massive thank you to you!
Getting engaged is potentially a process full of pitfalls and disasters. I have however just had the pleasure of dealing with Richard Talman, who has made the process for me entirely simple, unbeatable value, and provided the handmade ring at extremely short notice! Richard has been able to expertly guide me through the process of diamond selection and mounting. He is extremely knowledgeable and upfront when it comes to explaining what the potential costs I would have incurred. He practices in a way in which I have not experienced from others in his profession. His aim was not to financially destroy me, but infact to provide me with a far better ring than I could have imagined or afforded. In terms of costings he quoted me about 35% less than your standard high street jeweller. There is, therefore is absolutely no reason to buy a ring from them ever again. I am, as is my new fiancée, entirely satisfied and delighted with your expertly crafted ring. Your service far exceeded my expectations. My fiancée is now looking forward to the matching diamond earrings……… Thank-you once again, and I shall look forward to further dealing with RTFJ in the not too distant future!
Richard was recommended to me by a friend and made a fabulous eternity ring for my wife. I wouldn't be surprised if he never has to advertise because I imagine every customer will recommend him to everyone they know! We are impressed with both the quality and beauty of the ring, but also the way in which Richard guided us through the process of choosing what we wanted. This included teaching me about jewellery at the beginning (which he did with the utmost patience), right through to providing complimentary glasses of Cava when we went to his workshop to select the stones and design. He is full of ideas and suggestions and clearly enjoys his work immensely. The ring is far better quality than any high street jewellery and is totally unique. He was also extremely flexible and accommodating, allowing me to pick some stones up from him at 10pm prior to presenting them to my wife. Richard is a very skilled jeweller, a nice guy and we will be using and recommending him in the future without doubt.
Thank you so much for the engagement ring you have produced for my future wife. She hasn't stopped smiling since we picked it up. From start to finish you put us at ease with all of the decisions that had to be made.The service and professionalism that you showed were out of this world but most of all the diamonds chosen and the finished ring was better than we ever imagined. We will strongly recommend you to any friends of ours in the future and more importantly we'll see you soon for the wedding bands.
Richard made an engagement ring and wedding rings for our son and his wife who introduced him to us. They were particularly appreciative of the way Richard had guided them through the decision making process and we were impressed by the work that Richard had undertaken. Our experience of meeting with Richard to discuss a "dream ring" was equally positive. The sample stones he provided, the guidance and advice he gave regarding the setting made it so easy to arrive at a positive decision. He produced a beautiful single stone diamond ring in a lovely setting with matching band to a very tight deadline as he knew that we wanted them for a very special occasion. In addition he has also designed and made a stunning pair of earrings from diamonds recycled from an old ring. We would have no hesitation in recommending Richard – a real craftsman with a helpful and sensitive approach.
Richard provided an excellent and personal service that really put us at ease during a process that isn't always crystal clear! His advice was considered professional and complimented our wishes. We now have a beautiful and unique piece of jewellery that will be treasured for ever. He went out of his way to deliver the ring in time for a special family event. You couldn't have asked for a better service. We look forward to Richard's help in making our wedding rings and would recommend his work to anyone.
I commissioned Richard Talman to design an eternity ring for my wife for our 5th wedding anniversary. He gave expert advice about the ring design and was very receptive to what I wanted. He brought a selection of diamonds and sapphires so that I could see them and checked I was happy with the formation, size, colour etc and then did the work at very short notice. I was delighted by the final result as was my wife who loves the ring. I was very impressed by his enthusiasm, attention to detail and workmanship and he clearly takes great pride in his work. I would not hesitate to recommend him and will definitely ask him to do more for me in the future.