Here are some genuine testimonials from our happy customers. If you would like to leave a testimonial, please click here.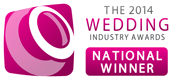 Click here to view  the client comments that made us National Winner, that have been officially supplied to us by The Wedding Industry Awards.
After seeing and falling in love with a photo of a peach sapphire ring on the internet, I knew this had to be the stone for my engagement ring. I had a hard time finding one on the high street ….impossible actually and eventually found Richard. I'm so glad I did! Richard is wonderful, incredibly passionate and knowledgeable about his craft. He quickly sourced 5 stones for me to look at. I didn't want to steal the moment from my intended so I picked 2 and left the rest to Richard and my fiance ( well, just Richard really). I am thrilled! My ring is just stunning! so much more than I ever imagined. I get so many compliments. Richard is an amazing craftsman, who I cannot recommend highly enough. We can't wait to commission our wedding bands.
Thank you so much.
Again Richard , thank you so much for your amazing work. Restoring my husband's wedding ring to make it look as perfect as the day we purchased it.
An absolute star and nothing is to much trouble. Your work and customer service is second to none, thank you so much.
What can I say…..Richard is amazing. He has literally managed to 'mend' my wedding ring which all other jewellers have said would cost me a fortune and I would have to 'melt' the ring down and start again. It is very precious as my husband had, had it made for me whilst overseas…….and a feature on it had made it unwearable……but thanks to Richard I have my ring back as good as new. Don't think of going anywhere else, thank you so so much Richard.
Richard of RTFJ is an incredible craftsman and I cannot recommend him and RTFJ strongly enough. Having been given a beautiful shaped engagement ring by my fiancé when it came to looking at wedding rings I quickly discovered that a bespoke ring would be the only way to ensure a perfect fit. I had no idea what sort of cost this would involve so began with the obvious Google search. Through this I discovered RTFJ amongst other jewellers. Richard was to be my starting point and a I duly made an appointment.
I had planned to visit several jewellers to see what options were available and compare prices etc. However upon meeting Richard I knew I had found the only person I was willing to consider using to make such an important piece of jewellery and should have walked back in at that point to pay my deposit and place my order! As it happens I went away and placed the order the next day.
Richard was very patient and knowledgeable talking through all the options regarding metal, width, additional stones, design etc. allowing me to make relaxed choices and ensuring that I was to get a ring I would treasure and not have any regrets about.
Going back and seeing my wedding band being made was fascinating and the final piece is stunning, fitting perfectly with my engagement ring.
We will definitely be returning closer to our wedding date for my fiancé to order his wedding band.
The only downside is my long wait to wear my beautiful ring!
I would like to say thanks very much to Richard and his team. Richard fabulously up cycled my very old worn eternity ring into my own design to which I still love today. Also Richard was very helpful when the surprise Mother's Day silver engraved bangle I received from my daughter and son was just too small. He carefully expanded it so I am able to wear it with pride and love. Richard and his team, I would certainly recommend to my friends and others, RTFJ for their craftsmanship, care and personal attention to us, his customers. Thanks again.
Richard couldn't have been any more helpful. We were two people who had no idea about
jewelry and no idea about a design! All we knew was we wanted to keep my grandmother's
stones and set them in a ring from my then fiance. Richard had much patience with us and
came up with the perfect design and we couldn't be happier with our wedding rings too
Richard was excellent. He took the time to meet with us to understand our requirements
and gave us various options to choose from. He made bespoke jewellery to suit us, within a
quick time period, he stuck to the original quote and the finished product is amazing. We are
very happy with his service and would certainly use him again
My very shy & confused boyfriend (now husband) approached Richard to discuss an
engagement ring. Richard helped him to design the most beautiful bespoke pink sapphire &
diamond ring that he knew I would love and guided him through the process, whilst working
within his budget. Once we had set the wedding date, we went back to discuss wedding
rings. Mine is unique as it is made to fit around my engagement ring. We have loved working
with Richard and now consider him our friend.
What more can I say everything he did, suggested and advised was just fab we will never
buy jewellery from anywhere else again
From the first day we met Richard he instantly gained our confidence in his expertise. I
wasn't sure what I wanted and went with several different designs, finishing with a rose and
yellow gold ring. My husband had a gold band finished with a rhodium layer wrapped around
the middle. Both rings are perfect to us and we couldn't be happier. Customer service from
richard was perfect and he went beyond to make sure we were comfortable and would not
rest until we were happy. He strives for perfection