Here are some genuine testimonials from our happy customers. If you would like to leave a testimonial, please click here.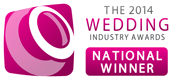 Click here to view  the client comments that made us National Winner, that have been officially supplied to us by The Wedding Industry Awards.
We cannot recommend Richard's work more highly. From a personalised and responsive design process which has created a unique ring incorporating and surpassing our ideas to prompt delivery of a fantastic engagement ring of high quality workmanship, all our dealings with Richard have been highly enjoyable. His subsequent work on our wedding bands was similarly impressive and once again demonstrated his attention to detail and flair.
Richard has made jewellery for my wife and daughters. His work is incredible and great value. You get a unique piece which he designs after discussion with you and he gives great service at a sensible price. I thoroughly recommend him.
A Touch of Class! Richard is an award winning expert in designing, making and adapting jewellery. He helps You get what You want and what a lovely way to celebrate an occasion or just show a token of love. His knowledge and customer care is 2nd to none. I highly recommend Richard – you will be impressed, have a blue chip product that won't break the bank! Thank you
When my wife's bespoke engagement ring was stolen a week before our wedding, Richard made a new one from scratch in 3 days and it was better quality and value than the original! He has since made a number of other pieces for me and friends and they have all been delighted with his work. Richard is an absolute craftsman and a thoroughly nice guy to boot, I'd recommend him in a flash.