Here are some genuine testimonials from our happy customers. If you would like to leave a testimonial, please click here.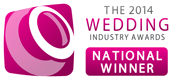 Click here to view  the client comments that made us National Winner, that have been officially supplied to us by The Wedding Industry Awards.
When my wife's bespoke engagement ring was stolen a week before our wedding, Richard made a new one from scratch in 3 days and it was better quality and value than the original! He has since made a number of other pieces for me and friends and they have all been delighted with his work. Richard is an absolute craftsman and a thoroughly nice guy to boot, I'd recommend him in a flash.