Here are some genuine testimonials from our happy customers. If you would like to leave a testimonial, please click here.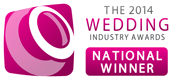 Click here to view  the client comments that made us National Winner, that have been officially supplied to us by The Wedding Industry Awards.
Richard Talman is a highly skilled jeweller who is passionate about his profession and dedicated to doing the best job he can. He has a friendly, relaxed style and he succeeds in putting you at your ease, and giving you the information that you need in order to help you to make an informed choice, and play an active role in the design of your jewellery. Throughout the whole process, from start to finish, we could not be happier with the way he conducted himself, and we are absolutely thrilled with the rings that he made for us.
I would have no hesitation whatsoever in recommending his services.
Richard has made some beautiful pieces for me including rings,earings and necklaces all of which have been much admired by friends and colleagues.I have been delighted to recommend Richard to my friends who, in turn, have been thrilled with his work be it traditional or modern.
Rich was great to deal with – reassuring, professional with original ideas. Throughout the consultation, design and manufacture of the engagement ring and wedding bands, Rich always went the extra mile to ensure that we were both totally happy with the end result. You just don't get that kind of service on the high street – I won't hesitate to recommend Rich in the future – thanks.
Richard Talman was recommended to us when we looked to have our engagement and wedding rings made. We had visited a number of jewellers, including many in Hatton Gardens, and decided to commission Richard for a number of reasons: he was very friendly, flexible, knowledgeable, honest and trustworthy; he showed us the diamonds he would use to make sure we were happy with them; his pricing was very competitive beating all previous quotes we'd received; and his workmanship is so good that he only asked us to pay him once we received the final rings and were happy with them. Once we commissioned the rings, Richard gave us a timeline and kept us up-to-date with progress. He delivered on time and also polished our engagement rings just before our wedding so all rings would sparkle. We are extremely happy with the rings and have already recommended Richard to a number of friends.
Richard has produced several pieces for us over the years, including an exquisite engagement ring, wedding rings and a beautiful pair of diamond earrings. He is both an artist and a master craftsman. The whole experience is always a pleasure from start to finish, with Richard advising and suggesting the best ways to achieve exactly what we wanted within our budget and then creating the piece to absolute perfection. I wouldn't hesitate to recommend him to anyone and in fact I have done a few times and each and every one of the people I referred were nothing short of delighted with him and his work.
We cannot recommend Richard's work more highly. From a personalised and responsive design process which has created a unique ring incorporating and surpassing our ideas to prompt delivery of a fantastic engagement ring of high quality workmanship, all our dealings with Richard have been highly enjoyable. His subsequent work on our wedding bands was similarly impressive and once again demonstrated his attention to detail and flair.
Richard has made jewellery for my wife and daughters. His work is incredible and great value. You get a unique piece which he designs after discussion with you and he gives great service at a sensible price. I thoroughly recommend him.
A Touch of Class! Richard is an award winning expert in designing, making and adapting jewellery. He helps You get what You want and what a lovely way to celebrate an occasion or just show a token of love. His knowledge and customer care is 2nd to none. I highly recommend Richard – you will be impressed, have a blue chip product that won't break the bank! Thank you
When my wife's bespoke engagement ring was stolen a week before our wedding, Richard made a new one from scratch in 3 days and it was better quality and value than the original! He has since made a number of other pieces for me and friends and they have all been delighted with his work. Richard is an absolute craftsman and a thoroughly nice guy to boot, I'd recommend him in a flash.